The Alliance Française Ottawa has always had as its main objective to increase access to Francophone culture and to create a welcoming, inclusive and diverse community. It is with that in mind that in September 2023, thanks to a grant from Ottawa Bilingual, we are launching the Forging Links project. The goal of this project is to introduce and promote Indigenous arts to our public, by enriching our cultural programming through activities organized in partnership with local Indigenous artists and organizations. On the menu: Dance shows, art exhibitions, tales reading, conferences, guided tours, etc.
Through these activities, we hope to encourage a better knowledge of Indigenous issues to a varied public while helping to open a dialogue in order to build a more present bilingualism throughout the territory of Ottawa and better cohesion between the Francophone communities, First Nations , Métis and Inuit and Anglophones.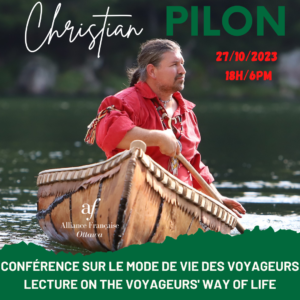 Come discover the voyageurs' way of life during a lecture given by Christian Pilon, authentic voyageur and Métis and Franco-Ontarian cultural transmitter.
As a speaker and storyteller, he aims to spread the values of Indigenous culture beyond ethnic and generational boundaries.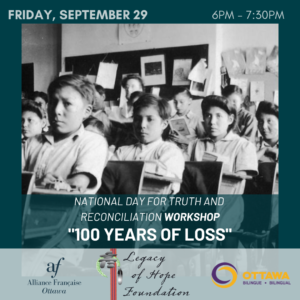 For Truth and Reconciliation Day, the Alliance Française Ottawa invites you to discover two activities that are a first step in understanding residential schools in Canada. Truth and Reconciliation Day was established to understand and honor the memory of different generations of Aboriginal peoples in Canada.
The Legacy of Hope Foundation provides a vast amount of resources available to educate ourselves on this subject, which remains central to the people of Canada today.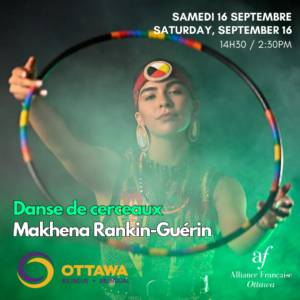 The Alliance Française Ottawa offers you a hoop dance performance by the artist Makhena Rankin Guérin.
A young Anishinaabe hoop dancer, Makhena will come to give a demonstration of this important dance in her community. She will also explain the origin of this dance and its uses in Indigenous medicine.