Our cultural centre offers a variety of art exhibits ranging from painting, photography to digital art.
AF Ottawa is committed to promoting local artists from the region, while being open to the world.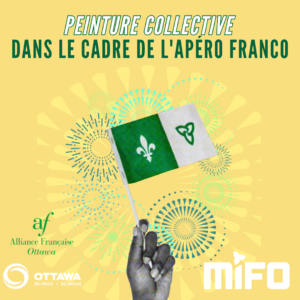 Collective painting as part of the Apéro Franco
As part of Franco-Ontarian Day, the Mouvement d'Implication Francophone d'Ottawa / MIFO invites you to celebrate this vibrant community with an exceptional event: the Apéro Franco!
The Alliance Française Ottawa is pleased to partner with the MIFO for part of this event: the Peinture Collective. This is a live painting with artist Carole Ince: take part in the creation of the work by giving your own brushstroke!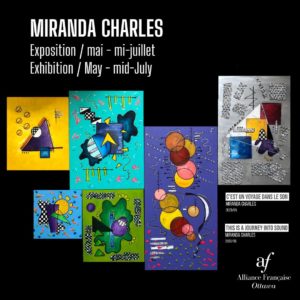 "This is a Journey into Sound" – An exhibition by Miranda Charles
Come and discover until mid-July at the Alliance Française the exhibition "This is a Journey into Sound" by the canadian painter Miranda Charles. In this exposition you will experience the art of Miranda Charles through the music that inspired it. This journey will take you from the 60s all the way to the 90s. Be sure to bring a pair of headphones or earphones as all the pieces will be accompanied by a QR code you can scan to listen to the each song.