Forging links: Call for Indigenous and Non-Indigenous artists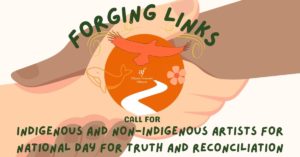 As part of National Day for Truth and Reconciliation, and driven by a desire to build bridges between the Indigenous and non-Indigenous communities in the National Capital Region, the Alliance française Ottawa wishes to host two artists to create a unique work.
The two artists will be asked to work together in this cultural mediation project, under the theme "Forging Links". We will provide the support: a 40×60 gallery size canvas, as well as the acrylic paint up to a maximum of $100.
The selected artists will receive a fee of $150 each for the production of this work, which will be presented in our exhibition hall on September 30, 2023.
The deadline to submit your file is June 15, 2023.
Only files in PDF format will be accepted.
The file must include:
 The application form for portfolio analysis (next page);
Your artistic resume;
Your artistic approach;
4 good quality photos in 8 ½ x 11 format of your work;
Your reasons for participating in this art mediation creation.
Please note that we will select one Indigenous and one non-Indigenous artist to create this work. It is therefore important to specify which community you identify with in your resume.
In addition, the selected artists will have the opportunity to exhibit three paintings each for the duration of the exhibition, which will take place from September 30 to October 31, 2023.
You can send your application to: culture@af.ca and indicate "Forging Links" in the subject line.
Download the file analysis request form HERE.