Dive into Gatha's music universe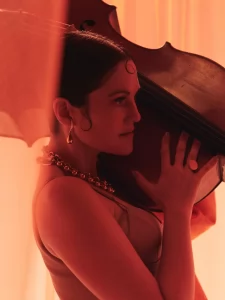 Wednesday, June 15th, 2022
At 7:30Pm
Club SAW
67 Nicholas St, Ottawa, ON K1N 7B9
When French pop meets cello. This is what the talented Gatha offers us through her unique musical style which combines classical music with a dense and lascivious pop, topped with rhythmic lyrics. You can dive into this beautifully interpreted music by her voice with her texts full of melancholy that she composes herself.
Gatha, a classically trained singer and cellist, songwriter and producer, has found her voice in a dense and lustful pop music, in French in the text.
Originally from Bordeaux, she has always been driven by her eclectic tastes – from artists such as Sia, Mia, Alicia Keys, to hip-hop productions of the 90s/00s. It is by sampling the records of her childhood and her cello, also integrating the looping technique, that Gatha discovers current music and production.
After several years of songwriting and multiple artistic collaborations, the name of Gatha is registered in first part of Julien Doré, Asaf Avidan, or Yodelice. As well as composing music for prestigious brands such as Yves Saint Laurent, Vogue or Chanel.
It is with great pleasure that the Alliance Francaise Ottawa will welcome him for his very first international tour on June 15th.

This concert is brought to you by the network of Allliance Francaise Canada,
in collaboration with the embassy of France.